We serve a God who, according to Romans 4:17, loves to establish and reveal what's true. Only, it's not what we thought things were…
[He is] the God who gives life to the dead, and speaks into being the things that are not.

He's let us know how little of even the measurable electromagnetic spectrum we can see… and there's certainly more out there than we've figured out how to measure in our most advanced ways.
And yet… we walk by sight.
Oh, even if we have seen through Webb telescopes and electron microscopes and history, and we can remember what is (and acknowledge our typical oblivion to it)…
nasa.gov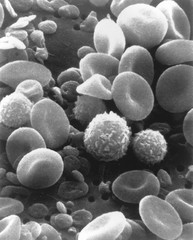 visualsonline.cancer.gov
…we walk by sight.
But we are people of faith!
We have the faith to breathe deep the clean air in our backyards.
The faith to step out of bed onto a floor we believe will hold us up.
The faith to actually expect we'll make it to the office intact.
The faith that our medication just might work. Our check just might get deposited. Food will be at the grocery whenever we run low. Our spine will hold us upright all day long. We'll understand the words we see on the page. Etc, etc, etc.
So I suppose the question presented is what we're putting our faith in.
Perhaps the painfully truthful short answer is: ourselves.
Namely, our perception and comprehension of the world.
What we can "see".
We trust the air because we've always breathed it. We mindlessly trust gravity and floorboards and vehicles because we've used them for some time now, and know how they work. We've been taught to rely on science and doctors and pharmaceuticals practicing evidence-based medicine (though, rightly, not everyone has equal confidence).
Maybe we understand microbiology, but she has a grip on cause and effect, so the bush mother doesn't trust the water without boiling it. He never studied forces, but the post-landslide villager doesn't trust the ground to be solid under his next step. The misused and exploited child doesn't trust a gentle touch to be safe. We live on the same spinning sphere with all the same rules of physics, but vastly different understandings of this world. Is it safe or unsafe?
So while we acknowledge that our resources for accurately interpreting the reality of our surroundings are quite limited, and our unawareness of those limitations is perhaps the biggest one… we walk by sight.
We operate according to a system of familiar experiences, ideas, and values at work in our lives. But at some point we're struck with the reality that the sum total of our entire existence's capacity is ridiculously minuscule. Mid-life crisis? Awakening? A drop of wisdom graciously laid on ignorance?
But if we re-arrange our lives according to our limitations, even if we do re-direct, how much better off are we? We need something far bigger than us in order to say we've placed our trust wisely.
The Lord founded the earth by wisdom and established the heavens by understanding.
Proverbs 3:19
Lord, Your testimonies are completely reliable; holiness is the beauty of Your house for all the days to come.
Psalm 93:5
Who has directed the Spirit of the Lord, or who gave Him His counsel?… Who will you compare God with? What likeness will you compare Him to?
Isaiah 40:13, 18
"For My thoughts are not your thoughts, and your ways are not My ways." This is the Lord's declaration. "For as heaven is higher than earth, so My ways are higher than your ways, and My thoughts than your thoughts."
Isaiah 55:8-9
"You have heard it said…. But I say…." -Jesus, repetitively.
"If anyone wants to be first, he must be last of all and servant of all."
Jesus, Mark 9:35
"You have hidden these things from the wise and the learned, and have revealed them to infants."
Jesus, Luke 10:21
"What is a man benefited if he gains the whole world, yet loses or forfeits himself?"
Jesus, Luke 9:25
"Not My will, but Yours be done."
Jesus, Luke 22:42
These all died in faith without having received the promises, but they saw them from a distance, greeted them, and confessed that they were foreigners and temporary residents on earth. Now those who say such things make it clear that they are seeking a homeland. If they were thinking about where they came from, they would have had an opportunity to return. But they now desire a better place: a heavenly one. Therefore God is not ashamed to be called their God, for He has prepared a city for them.
Hebrews 11:13-16
The fear of the Lord is the beginning of wisdom, and knowledge of the Holy One is understanding.
Prov 9:10
Let's spend a few posts reflecting on some discoveries of this truth about "things that are not" that God calls HIS. You have a thousand such stories from your years, also. Think about them. Let's be transformed as our minds are renewed by a living Word, Spirit, and story.
Before the mountains were born, before You gave birth to the earth and the world, from eternity to eternity, You are God… In Your sight a thousand years are like yesterday that passes by, like a few hours of the night… Teach us to number our days carefully so that we may develop wisdom in our hearts… Let the favor of the Lord our God be on us; establish for us the work of our hands.
Psalm 90:2, 4, 12, 17